Chichi Darake
When these two sisters and a friend get together the filmstrip begins to melt. It is hard to keep your eyes off of Mayuka and Junne Okada, but when Fuko comes to visit things get wicked and wild. They start the day out playing twister and teasing each other and the guys around them with their sweet round tits. Then things get a bit wild as they head out to a sauna and take a long hot mud bath. Mayuka and Junne make sure that Fuko's big tits are covered in mud, laughing as they apply more and more of the dark wet stuff to her big round tits. Try not to get splattered when you watch these naughty girls.
Details
Rating:

Model Name: Fuko
Set Name: Chichi Darake
Date Added: 2010-05-18 00:09:30
Related
Videos
Download Full Movie
96:23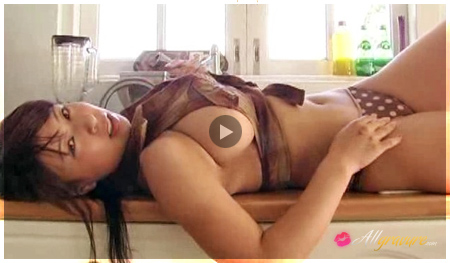 Download Full Movie
89:47
Click here to watch more Gorgeous girls now!
24 / 7 Live Chat shows for members
We feature 2031 AV Models online
130.239 Unique pictures online
Only high resolution videos & pictures!
We feature 10320 HQ Gravure & AV Idol videos
Updates with not less then 3 picture sets daily, over 5000 / an year!
Related Gravure
Models
Click here to watch more Gorgeous girls now!
Japanese Gravure Models Only the hottest Japanese babes are photographed in HD for our site. We only bring you the most gorgeous Japanese centerfold models in our extensive models archive.
Daily Updates We bring you daily updates of gorgeous Asian centerfolds in crystal clear photos and videos.
Exclusive Japanese Models Enjoy exclusive Japanese centerfold models that will melt your heart and your cock in crystal clear photos and videos.
Huge Model Archive We offer the most extensive and exclusive Asian centerfold model database on the planet! We constantly search the world for the best Japanese centerfold models and add them to our exclusive model archive.